The CZ-ZONE: CZ Pistol Review-PCR
POLICE/CCW PROVEN
COMPACT
RELIABLE
Often called the "Secret CZ" as so few people know about it. -- The PCR (Police Czech Republic) served the Czech National Police-PCR, for a number of years before they adopted the P-01. ---- A cast alloy frame and unique sights set it apart from the other CZ models.
While the CZ factory contacted me and I actually helped name the P-01. (I was sent one shortly after they went into production. Of which I was very surprised to see that the gun actually said P-01 on it) ----- This is my first time ( and hers ) with handling the PCR. ----- SO as they say. The Proof is in the Pudding.
On a sunny April day near Clarkston, Washington. We set forth with gun and ammo to test this little beast. ------------------------------ Range: Approx 15 yards. TEST AMMO: 9MM LUGER HORNADY FTX 115 grain Critical Defense DOUBLE TAP 115 Grain Gold Dot +P JHP CCI BLAZER 124 Grain FMJ ----------- We started by Nancy shooting her new pistol (Her very first CZ!) and she didn't seemed fazed by the recoil or muzzle blast from the 115 gr. Double Tap loading of the Speer Gold Dot JHP, plus some older Blazer ammo.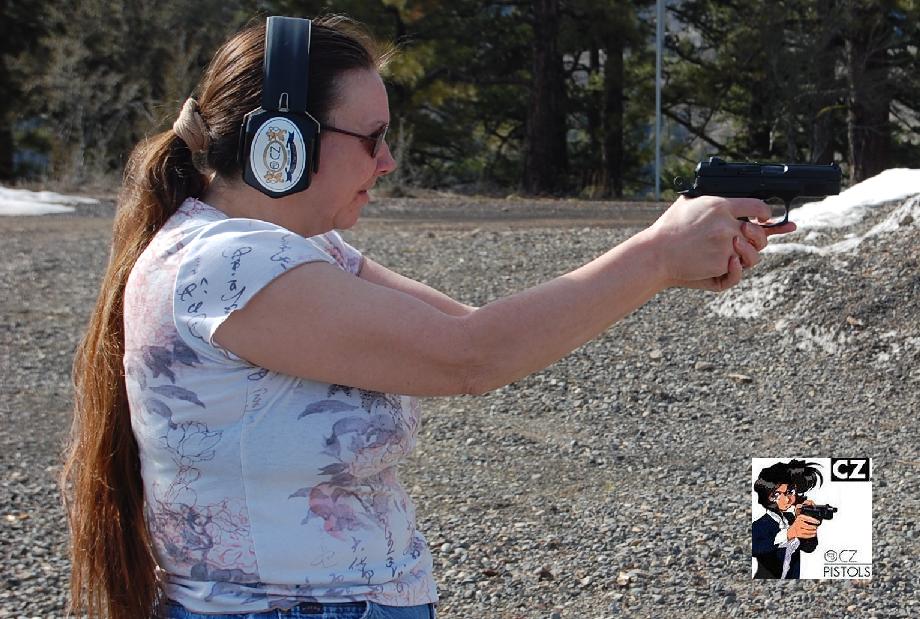 ----------------------- The Double Tap has some blast to it, but like other premium defensive loads, you have to try hard to get any pics of muzzle flash. A good point for night time CCW. ------------- I liked the idea of seeing how the PCR fed the DT load. Something that my RAMI doesn't like much due to the high velocity. The PCR shucked it right out and asked for more. ---------------MY TURN!!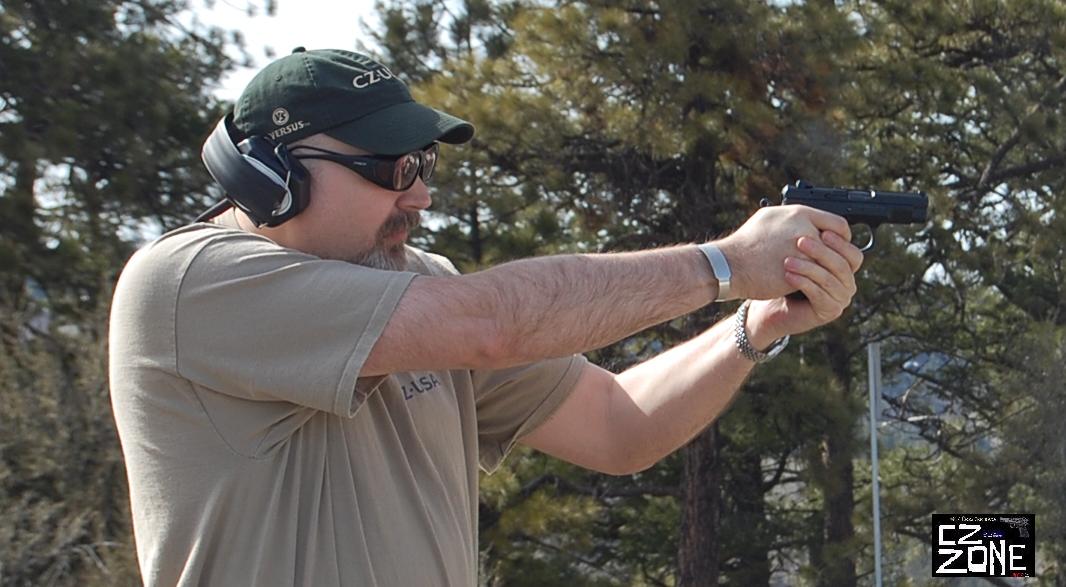 Drawing from my improvised High Noon paddle holster for my RAMI. The next 5 rounds downrange were the excellent FTX from Hornady. The first two shots were a bit right of the bulls-eye, but touching together. My next two punched through the X ring with typical low recoil and muzzle blast from the Flex-Tip loading. -------------- I then tried a few rounds of the much hotter Double Tap. Not to my surprise..the DT rounds hit low or left, and I sure could tell that there were some +P rated ammo in the gun. Basically, I was shooting all over the place, as opposed to the more precise Hornady load. Proving that the FTX is scary accurate IF I do my part.
---------------------------------------------------- Overall. The Hornady FTX showed it's colors by being easier to control and delivering superior accuracy in my hands. Something that I've found to my liking in the past few months of playing around with the FTX in my CZs and Glock. ---- The FTX might not be a high velocity/powerful as the Gold Dots or even other Hornady 9mm offerings, but the Flex-Tip technology and mild recoil/superb accuracy make up for that in my book. Also, that the load reportedly Expands Every Time, and technically..isn't a Hollow Point load, are attractive features.
----------------------------------------- She shot up some more Blazer FMJ as a few more Double Taps, before we decided to make the hour trip back home. -- As for the PCR. I can now see why the CZ ccw crowd really loves this model. The trigger was great for something off the line, and she nor I had no problems with Double or single action.
The decocker was also easy to use and a very safe feature for transition of the handgun from one to another. ---- Sights were typical CZ glow-dots, but easily picked up. A set of real deal tritium Nites are planned for this gun in the near future.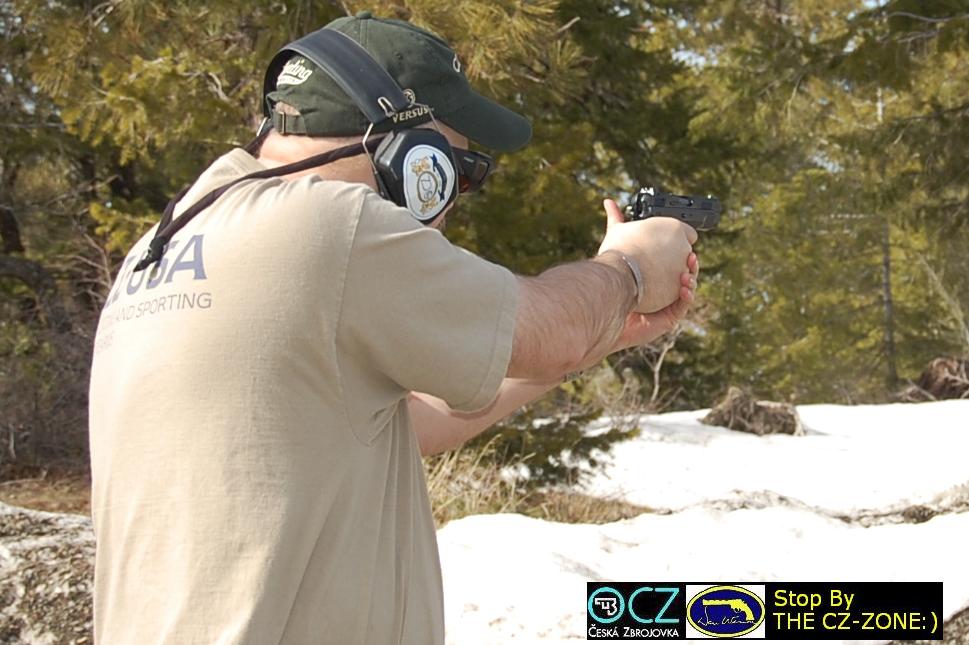 ---- I will hopefully be getting a new P-07 DUTY in the next shipment, but can honestly say that I don't see how much better performing it can be over a PCR. -------- Maybe a bit lighter and a smoother trigger, but I will have to run some FTX and other ammo through it to determine such.
We went through what seemed like a extra long Winter, and were very glad to get into the woods and sunshine to do some shooting with the PCR. Also a good chance for me to wear the new CZ-USA t-shirt(s) and dark green Shooting Cap!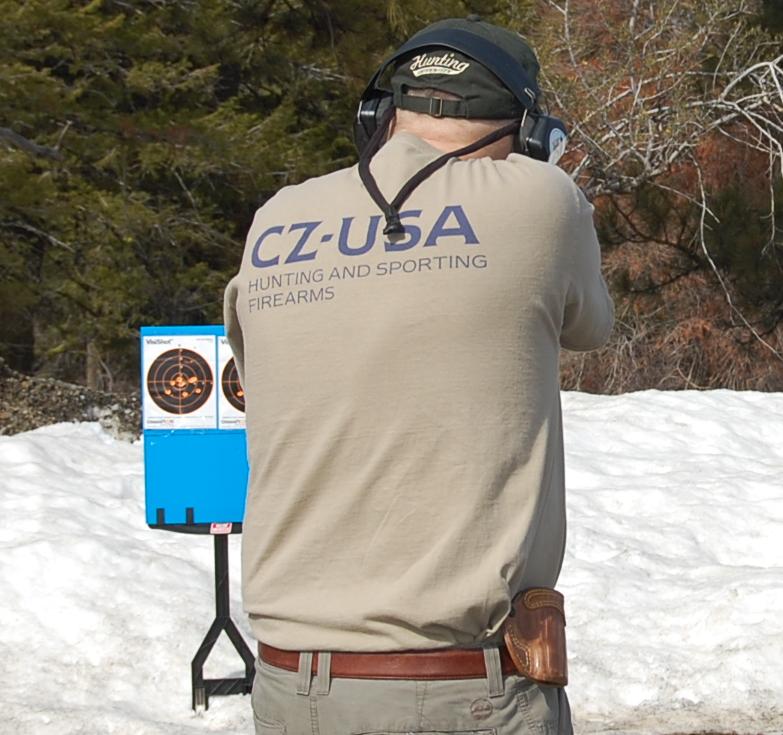 Look for them and other CZ Gear at the new CZ-USA web-store. ------- In closing.. Should you be a CZ fan or just have some interest in a 9mm that will do concealed carry, home defense.. or range duty.
Look towards your CCW or other needs, then consider the carry friendly PCR.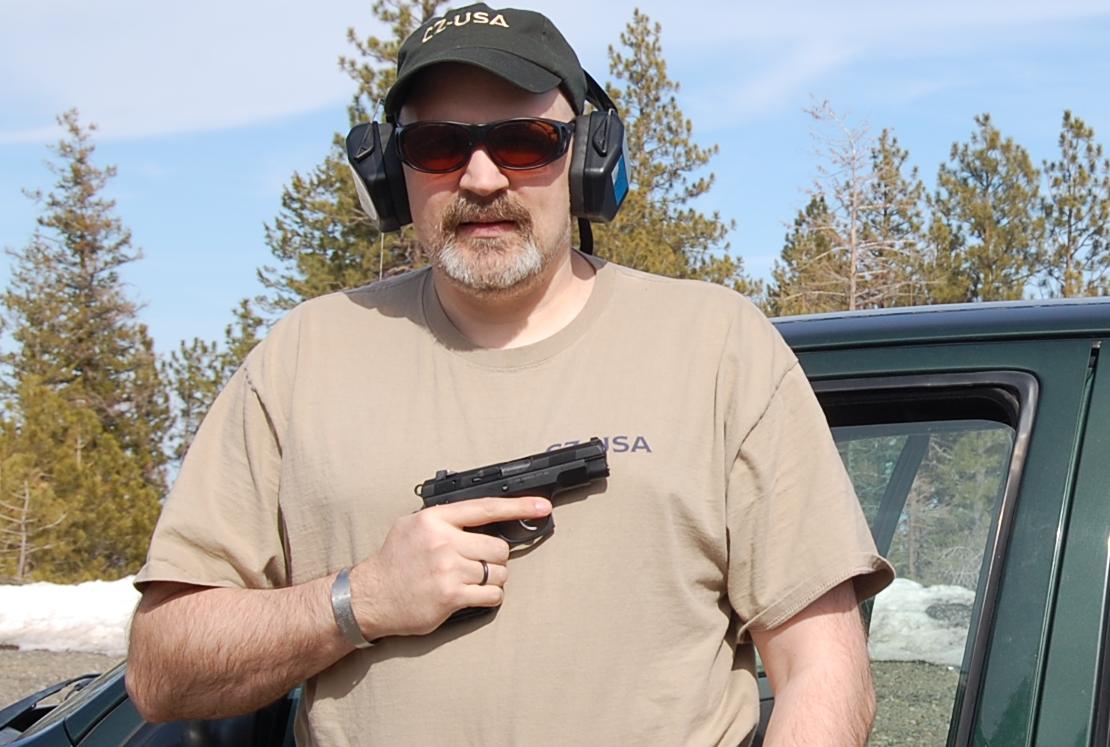 HIGH NOON HOLSTERS
CZ-USA WEB STORE
NEW: HORNADY FTX-9MM
CZ-USA: PCR SPECS PAGE
PCR PIC 1
PCR PIC 2
NEW: CZ-USA GEAR
PCR PIC 3
NEXT PCR PAGE
BACK TO THE CZ ZONE


Email: clarkston_cz@yahoo.com